Guides
My guide colleagues are real experts in fly-fishing. Everybody knows his home rivers perfectly and can give you not only the best know-how but also very friendly companionship during your guiding days.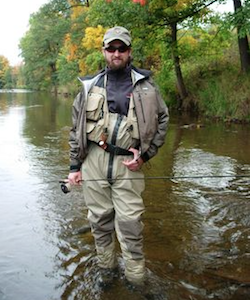 Martin Droz
One of the best fly-fishing competitors in the world. Martin as a member of the Czech National Team got the gold medal in teams at World Fly-fishing Championships in 2008 and 2006, the silver medal in 2007, 2004, and the bronze medal in 2005. As well as his individual achievements are great: 1st at World Fly-fishing Championships in 2008 and 3rd in 2006. Martin improved Czech nymphing technique in a modern and very effective way of fishing. His home river is the Labe but thanks to his know-how he can guide you anywhere. Martin speaks English. In spite of "his world fame" he stayed modest and very friendly guy who can teach you a lot. It is a pleasure to fish with him.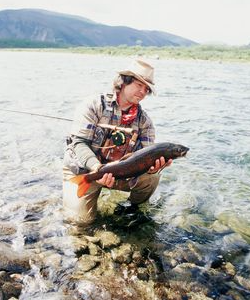 Jan Haman
Is my top guide for German and English speaking fishing-clients.  Born in the rural Giant Mountains of former Czechoslovakia, he lived in England and Germany for many years, and therefore knows European lifestyle, culture and good humour very well. With his open mind he is very much appreciated everywhere, and guests and clients keep coming back regularly, who want to be guided just by him. His most beloved river is the wild and secret Jizera River. Jan's style of fly-fishing is very sporting with the dry-fly, and with the wet-fly and streamer for big old trout on our lakes and reservoirs in the higher elevations. Jan is also a passionate wanderer, hunter and traditional archer with experiences from some of the best hunting grounds worldwide. But not just fly-fishing is his strong point. As a true gourmand, he knows the best restaurants and pubs in his native Giant Mountains. With his love for writing, painting, art-work and photography (and for good wine and cigars), he is an entertaining companion in the evening after a hard day's fishing. You will never be bored with him.
Petr Ledl
Is a highly experienced angler who has been fly-fishing from 1976. He studied at Fishing High School in Vodnany which gave him very good fishing know-how. When I started fly-fishing Petr was my first teacher who showed me everything-casting, fly-tying and his secret tricks. I am very proud that I had such a great teacher.  Petr as a fly-fishing classic loves dry fly-fishing and his most favourite river is the Ohre. He also likes the Kamenice, the Nisa and the Jizera where he provides most of his guiding. Petr speaks English. He is witty and open mind guy who can also show you good biking trails or hiking paths. Fishing with Petr is like reading from Fly-fishing Bible.